Okay, in the name of being vulnerable and telling some of my story, I'm going to use the pronoun "I" here a lot more than usual, but here goes …
For some reason, I was forced to learn how to deal with and eventually embrace change from an early age. The house I grew up in almost burned down twice, displacing us for a year each time, and leaving me to start all over emotionally and with respect to my "stuff." I didn't realize it at the time of course, but these early experiences set the foundation for a lifetime of constant change and adaptation.
Although I was a bit of a modern hippie and free spirit after high school, and the last kid anyone expected to join the military, that's exactly what I did. I was going down the wrong path, and I knew it, but I had such low self-confidence, such low expectations, that I just didn't care. By the age of 20, I was in a dark place, feeling hopeless, lonely, and depressed, although I was surrounded by my loving family. Something deep inside of me wanted to challenge myself in a way that I never had before. I wanted to see what I was made of. And although I love New Orleans, at that time I wanted a change. I joined the Army and shipped off to North Carolina where I served for three years and parachuted out of planes a couple of dozen times.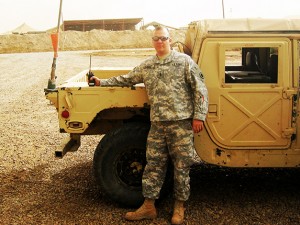 By the age of 35, I had worked my way up through the ranks to First Lieutenant. I was a devoted husband and dad, but living in denial about my unhealthy marriage. And then in 2005 I was deployed to Iraq and had to leave my wife and kids for 18 months. That was the most challenging and transformative experience of my life so far. Not only was I in the Sunni Triangle during a very violent and dangerous time of the war, but my life back home utterly fell apart. Within weeks of arriving in Iraq, my marriage absolutely crumbled, my kids were not being cared for the way they should have, my sweet mother began radiation therapy for breast cancer, and Hurricane Katrina ripped into my home-town (where mom was fighting for life and had to be evacuated).
As if that wasn't enough, I was in the middle of a war zone 8,000 miles from those I loved most. My higher headquarters organization lost almost 100 people in 12 months, my own organization lost one of our best men to a suicide bomber, thousands of us were injured, and my mom lost her own battle with breast cancer about halfway through my tour. I was proud to serve with such amazing people, and I put on a strong face for my soldiers, but emotionally I was a complete mess. After being surrounded and focused on so much death and destruction, I came home without a scratch, without any physical injuries at all. I also came home to a new life, with no mom (yes, I was a momma's boy), no wife, and full custody of my two young kids.
Like…. overnight. There was no transition period.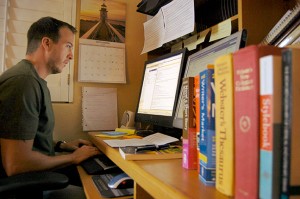 Professionally, my career was just taking off. I was promoted to Captain and assigned as Company Commander of 275 personnel. But on a personal level, I was struggling with transition back into my new life, including issues like deep resentment, pain, betrayal, major stress and guilt. From the depths of my anguish and emotional trauma, I somehow made a deep-seated, conscious choice to live life as fully and openly as possible. It was like a fork in the road. I was going to take the path of light or the path of darkness. I chose Post Traumatic Growth! I put myself and the kids into family counseling. I opened my heart and began to see that being vulnerable was much harder than being mentally and physically tough.
The reason I share all of this is to assure you that in my 41 years I have seen many places, known many faces, been through major life changes and challenges, and had countless adventures. Since entering the workforce 25 years ago, I have held more than 20 jobs and lived in 9 different states, including 40 different homes, apartments, or barracks.I've thrived and transitioned between various roles and professions, including a son, brother, friend, soldier and paratrooper on Active Duty, restaurant manager, mentor, married man and father, U.S. Army officer, leader, Company Commander, Iraq war veteran, Active Duty soldier, National Guard soldier, single dad with full custody of two young children, Communications Project Manager, happily remarried man with a wonderful blended family, professional writer and career coach.
I have had mentors and role models guiding me along the path since I was a kid, and it has changed my life. I have also been coaching and mentoring people in my personal and professional life since 1992, when I realized that I had a gift for helping people through written and verbal communication. After serving for 11 years, and participating in the war of my generation,  I made the decision to leave the military and create more balance between my family and my work. I was determined to reduce negativity in my life and inner dialogue, defeat my own self-sabotaging behaviors,  embrace change, start a new career and truly align my passion with purpose – to use my unique gifts to spread a positive message. Since then, I have worked with clients all over the world and used my own mind, body, spirit, family, and relationships as a laboratory for creating more balance and joy.
I've also learned how to apply the discipline I gained in the military to treating myself kindly and designing the kind of life I want. For the past seven years straight, I have continually shed drama, grown spiritually, and found it increasingly easier to be happy and inspired, even in the face of great adversity. I've developed many techniques and perspectives along the way, and now I stand ready to help you through almost any change or challenge.
I am currently based in St. George, Utah, which is a wonderful city and gateway to some of the most powerful and inspiring geography I've ever seen. I live here with my wife and three kids, who help me to appreciate life more every single day.